Ewantu told me to make the results if I wanted to as it seems Miz didn't bother, so, admins that aren't Ewantu, DO NOT DELETE.
Josh Matthews: Welcome to IXWF SmackDown live from Tokyo, Japan! We have a great card for this week's SmackDown! We have "The Rated R Superstar", Edge taking on "The Voice of the Voiceless" CM Punk!, but that's not all, we have "Stone Cold" Steve Austin facing off against "Latino Heat", Eddie Guerrero, that's still not all, we also have "The People's Champion, The Rock, facing off against "The Sinister Scotsman", Wade Barrett! And finally, for the main event, we have the "Big Red Machine", the World Heavyweight Champion, the unstoppable monster, KANE! facing off against "The Cereberal Assassin" Triple H for our main event, what do you think, Booker?
Booker: DIS CARD IS GUNNA BE OFF DA CHARTZ!
Josh Matthews: Wait, here's Eddie Guerrero!
Eddie's music hits to a huge reaction from the crowd, Eddie comes out in a large SUV, unlike his usual low rider.
Eddie drives the SUV down to ringside, gets out and goes to the back of the vehicle
Today we're going to sell Triple H's personal possessions esé!
Eddie rips a black cloth off the boxes in the back of the car.
A slammy for best hair in '97! you could pretend you're Triple H before you had to start dying your hair to cover up the gray!
Who will give me 75c for this slammy?
Eddie brings the slammy over to an audience member and hands it to him when suddenly.....
*Triple H comes out with and displease look
Triple H:What the hell are you doing? How did you get my stuff? I don't have to die my hair, and it is worth more then that!!!!!!!!!!!
Esé! I am Latino heat! I have ways of getting your stuff, hell, I'll be honest, I stole it.
Eddie walks back to the driver door of the car and takes the keys out of the engine.
Esé! do I hear $2 for Triple H's car keys?
Eddie walks over to a different fan, hands him the keys and takes the $2.
Ooh mamacita, this auction is turning in to a great success!
* Triple H runs down to where Eddie is,Eddie is about to give the keys to the fan but notices Triple H and starts running, and jumps
Josh: Ok why did he jump?
*Eddie stops and turns around to face Triple H while Triple H is just got to the steps
Booker T: Keep running boy!
*Triple H keeps running and trips over face first into the ground
*Eddie points to a rope tie to the post and the table and the crowd starts laughing
The next item I was going to sell was Triple H's dignity, but I guess that's already gone.
But, Triple H, I've been thinking over the last week, I want to face you at WrestleMania, the last of an era, to reignite our long standing feud from XWS! to steal the show, me, you, no titles, just Latino Heat vs The Game, Triple H vs Eddie Guerrero, IAreChuckNorris vs ewantu2! One.....more.....time!
What do you say?!
*Triple H gets up and crawls over to Eddie and punches him in the balls
Booker T: what dah hell man?
*Triple H makes his way out while the crowd boos
Eddie slowly makes his way to his feet before putting the microphone up to his mouth.
Esé! You worthless cowardly son of a bitch, I will get my match, it doesn't matter how much lying, cheating or stealing I have to do, I will not deprive these fans of the classic that they deserve! I will also get the revenge that I also so desperately want and I will stop at nothing to get it. Viva la raza!

Eddie goes back to the locker room, pissed off without high fiving fans on the way out.
vs.
CM Punk wins.
vs.
Eddie Guerrero wins via forfeit.
Undertaker is in ring Undertaker Talks:I have done everything in this business and Im still a regular wrestler I've won all the titles I have claimed all the souls,but I'm not done and I will never be cause this is my life and I live like I wanna.I'm not from Death Valley I'm a Texan and I was born to fight this deadman crap is over and I'm ready for another fight at Wrestlemania I will face Anybody so come on or are you scared of the American Badass.
vs.
Rock wins.
[center]
Triple H: Next week i get to pick my tag team patheir, and i'm going to pick th wrost i can find to give Kane a wee chance next week so that means i'm going to pick..................... Randy Orton!!!!!
*Crowd starts booing
Jim Ross: He is the IXWF champion he is one of the best in IXWF
[center]Kane Slowly Makes His Way To The Ring...
Kane makes it to the ring and climbs over the top rope
Kane grabs a mic and begins to speak to HHH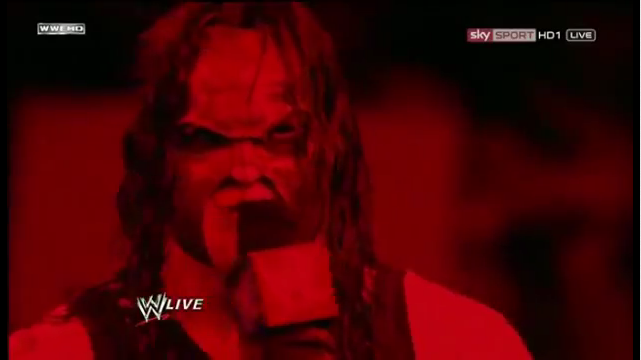 -Kane-
"Randy Orton... the same man who you betrayed a few years ago? Last time I checked he punt you in the skull so why would he even want to team with you? Now my partner on the other hand I know for a fact would love to beat you. No its not Sheamus... he's too scared to be in the same match as me... and no its not the man you assaulted a few weeks ago costing him his World Championship match. You don't even deserve to know who my partner is... you should wait untill the match but I'm going to be nice for onceand actually tell you... My partner for our tag match is... THE MIZ!"
tbc- HHH, Orton, Miz
vs.
Kane wins via pinfall.