Micheal Cole - look at the crowd king theres a big standing ovation for the rock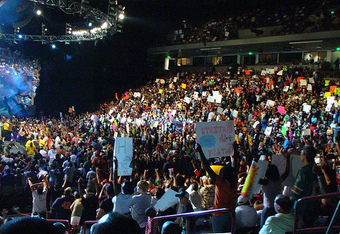 crowd hits a silence as the rock picks up the mic
The rock- finalllyyy the rock has come bk to wrestling entertain ment after my multi film succsess but know im bk and believe the rock when the rock tells you he has missed the millions and millions of the rocks fans well im out here tonight to say im the peoples champion and i will be ur next ixwf champion and if anyone back stage has anything to say i suggest u know ur role and shut ur mouth.
crowd cheers Rocky Rocky
if ya smellllllllllllllllllllllllllllllllllllllllllll What the Rock is Cookin !!!!!
the rock drops the mic and heads back stage with a big raw from the fans
jerry the king lawler - well cole the rock looks like he means buisness carnt wait for the first matches to get under way