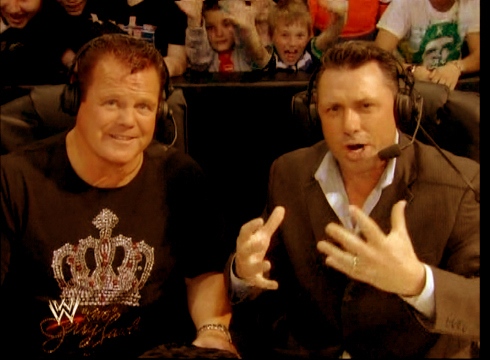 [Michael Cole]
Hello ladies and gentleman and your tuned into monday night raw...Im michael cole here at ringside tonight with my colleague and good friend Jerry the king lawler
[Lawler]
Colleagues yes...Friends i highly doubt cole
[Michael Cole]
And ladies and gentleman we heard GM sheamus mention last week about the United states championship qualifying matches and how HHH would be banned and those qualifying matches start up tonight.... And we just got word in tonight that the first match up in the qualifying matches will be Big Show taking on batista in a falls count anywhere....and then we will see Gm sheamus taking on dolph ziggler ..followed by scott hall taking on john cena in an extreme rules match
[Lawler]
And ladies and gents remember here the 3 winners will advance to the finals next wee on raw to fight for the us belt...Sheamus also said he is going to make our main event interesting and have a last man standing match between HHH and randy orton live here tonight
Match Card
*The camera swings backstage to Todd Grisham*
[Todd]
Ladies and gentleman...It is me Todd Grisham here with an exclusive backstage interview with Sheamus as soon as he leaves out from this trainer room
*Sheamus Walks out of the trainers room and todd starts the interview*
[Todd]
Sheamus is everything okay...We just saw you leave the trainers room
[Sheamus]
Dont worry about me fellah...Everything's fine...The doctor just needed to check me over after the Batista bite i received last week...But lets be real now Todd...Thats not why your really here...So why not stop pussy-footing around ...And get to the point
[Todd]
Okay...Well err...The reason i'm here sheamus is to question your recent problems with HHH and putting him in a last man standing match tonight against the unstable viper...Randy orton??
[Sheamus]
Well i tell you what Todd...theres nothing big here between me and HHH...He is just another superstar wanting to start a war with the wrong person... Everything was going alright...and i tell you i would have happily let him make a move to Smackdown ...if they was willing to pay the right price...However, HHH thought by attempting a pedigree...It would get him off Raw faster...But...He is wrong because now he is going to be on Raw abit longer and go through a struggle of loss and feel pain...Which is why i thought it be a good move to put him up against Randy Orton
*Sheamus Walks along the corridor and Todd grisham follows*
[Todd]
Okay sheamus...and the biggest concern of many people is...Are you not scared for the well-being and health of HHH tonight?
*Sheamus stares at todd...he then begins to roar*
DID YOU NOT JUST LISTEN TO ME FELLAH....i dont care for HHH tonight!!...He is going up against orton for a reason...and that reason...is to taste the start of his streak of PAIN AND SUFFERING!!!
Now i have a match up next...Maybe you can interview me next week when i have the US belt around my waste
*Sheamus Walks off and leaves Todd by himself*
[Todd]
Back to you cole
Match 1: Falls Count Anywhere United states qualifying match


Big Show Vs Batista
Big show wins with a WMD on the stage and then a cover

*Dolph Zigglers theme hits the titantron*

*Ziggler comes out with his usual, cocky attitude*

DZ: I honestly can't believe that Sheamus is in charge of RAW. You know why? Why would ANYBODY in their right mind want to face absolute perfection in me, Dolph Ziggler.



Sheamus, you wanting to face me proves you're mad. But hopefully I can help you by zig-zagging some sense into you and qualifying for the United States Championship match next week live here on raw

*Sheamus's theme hits the titantron*

*Sheamus comes out and makes his way down to the ring where he grabs a mic*


Mr ziggles...Mr "Fakefection".... You think your perfect but really....your just another average joe...with an average hoe of a girlfriend...
I'm GM because im right for the job...Im a fair guy...and everyone loves sheamus...I can also throw together a good match card and put on the matches everyone wants to see...and well...majority of them doesnt include you...except this one...Only cause your facing a talented fellah like myself

You may think im mad...But to be honest i think your sad...and tonight im going to brouge kick some sense into that skull of yours


*Sheamus drops the mic and The bell rings*

Match 2 : Normal United States Qualifying match
Sheamus Vs Ziggler
Match ended in a double count out as the two men brawled on the ramp

Match 3: Extreme rules United States Qualifying Match
Cena VsHall
Cena wins with an AA onto a trash can


Lillian Garcia: Ladies and Gentlemen please welcome the NEW IXWF Champion the viper Randy Orton.




Cole: Well JR there he is the NEW IXWF Chsmp, i told you he could do it i told you.

JR: I never doubted it Cole i just said it was a huge feat to pin Big Show but he did and i take my hat off to the man.




Orton: Finally after months of waiting for my IXWF Title i got my shot and what happened? Thats right i won the IXWF Title. So many people said i didnt deserve the shot even though i won a tournament. Nearly everybody doubted me against the Big Show saying i didnt have a chance but i proved them all wrong last week when i pinned Show in the center of this ring to become IXWF Champ. Well now its my time we are all again going to live in the age of Orton and there is not a damn thing anybody can do about it.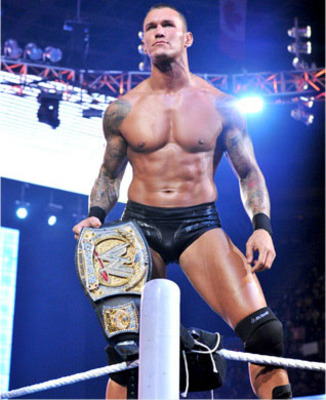 As Orton is on the turnbuckle the camera fades into a commercial break.
Match 4: Last Man Standing Match
Orton Vs HHH
Orton wins with a punt kick to the head

[/size]