[Michael Cole]
Well ladies and gentleman things are heating up backstage as Sheamus has bravely confronted kane
[Sheamus]
Well...If it isnt the cowardly red monster...I called you out last week fellah...But you was too scared to come out and face me...So tonight...Im gonna show you what happens when you try to dodge the great white
*Sheamus walks away slowly*
[Michael Cole]
Well luckily king...Nothing happened backstage that wouldnt prevent their match up later on tonight....
[Later that night]
[Michael Cole]
We are live back on Monday night raw and you join us halfway through this matchup...Kane taking on Sheamus
Sheamus Just missing the Brogue kick
He turns around and falls right into the pit of kanes hands as kane gets a tight grip on sheamus....
Sheamus squirming in the ring now folks as it looks like kane is actually choking him hard....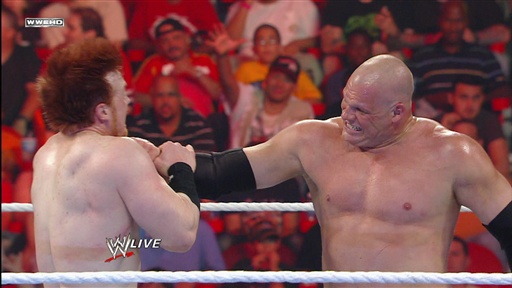 He lifts him up high now....And kane plants sheamus into the ground
Kane going into the cover now
[Referee and Crowd]
1
2
3!!!
[Michael Cole]
And kane does it ladies and gents...he puts the great white to rest...
Now this match is over but kane is clearing sheamus out of the ring here
And he is now following him out of the ring and assaulting him by the fans
Kane looks angered up and doesnt look to stop anytime soon as he continues to pumell sheamus against the side barricade
*Kane leaves sheamus lieing down as the paramedics run to his aid...Rolls into the ring and grabs a mic*