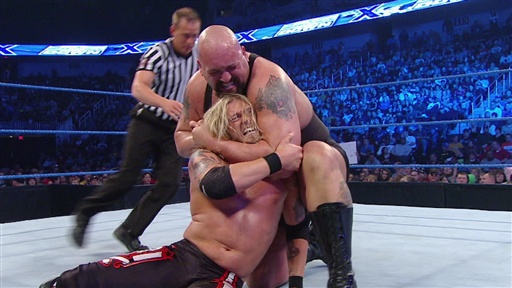 the match has gone has gone on forever these superstars are giving it there all. Big show picks up edge and...military press...9 ftin the air straight down to the ground big show is going for the pin.
1...
2....
KICK OUT
OMG edge has gone through it all wait whats big show doing hes running twords edge oh no edge hit the big boot to the big show....Edge realizing his opportunity he goes in to the corner he has that sadistic look in his eye oh no hes setting it up for the spear.
big show slowley gets up ........
BUT WAIT WHATS THIS OMG HHH HAS COME TO HELP EDGE ............but why edge is about to spear the big show.these two have gone hell and back. wait why is HHH getting a Sledge hammer he looks sadistic But wait he gets into the ring and.........
OMG EDGE JUST SPEARED TRIPLE H OMG ALLHELL HAS BROKEN LOOSE WHAT IS GOING TO HAPPEN NOW.........
OH NO BIG SHOW JUST KNOCKED OUT THE RATED R SUPERSTAR WHAT WILL HAPPEN NOW. WILL BIG SHOW ADVANCE TO FACE RANDY ORTON. HE GOES FOR THE COVER
1....
2..........
3!!!!!!!!!!!!!!
BIG SHOW WINS HES DONE IT.HES GOING TO OVER THE LIMIT but will he survive the wrath of the viper. find out next sunday live on paper view in montreal canada. but wait edge has lost so this means he will be in the intercontinental championship thats right. will they both be victorious and become champions.......